News by email
Enter your email and press "Go" to receive occasional news from Taizé in English. For details and for other languages click here.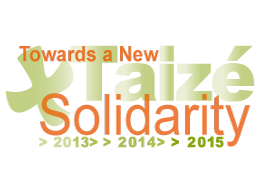 For the Diary
Regional news
Latest podcast
2015-02-09 : Alleluia 18 + Psalm 145 / Col 3:8-11 / Notre âme attend le Seigneur / Prayer by Brother Alois / Staňte ze solí země
Daily Bible Reading
2015
Mon, 27 April
Trick the cares that weigh upon you, console your heart, chase sorrow far away, for sorrow is of no use to anyone.
Sirach 30:21-25
more...