News by email
Enter your email and press "Go" to receive occasional news from Taizé in English. For details and for other languages click here.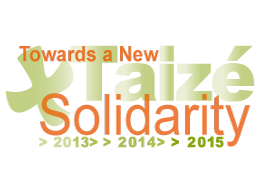 For the Diary
---
Regional news
Latest podcast
2015-08-24 : Alleluia 10 + Psalm 34 / 1 Th 3:12-13 / See, I am near / Prayer by Brother Alois / Tu sei sorgente viva
Daily Bible Reading
Tue, 1 September
Proclaim the Lord Christ holy in your hearts and always be ready to answer people who ask you the reason for the hope you have.
1 Peter 3:8-17
more...